Pre-assembled Puzzles Lamps New Designs
In this section are displaied a wide range of pre-assembled Puzzles Lamps made in different sizes and shapes.
These lampsades can be applied to almost any existing cieling lampholder or they can replaice the lampshade of sidebed lamps.
Choose b
elow the size and colour of the desired
Puzzles Lamps
and once added to the basket, the quantity of each lampshade can be increased to order more than one of th
e same lampshade. Orders delivered within 1-3 weeks - F
or urgent orders, p
lease contact us.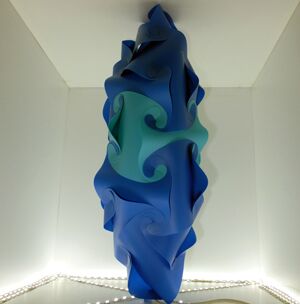 Double Cone Puzzles Lamp M - 24 Blue - 6 Turquoise
Created by our pupils at Morden Library Workshop
Assembled with 30 Components size M - 24 Blue - 6 Turquoise
Item Code: PL2324B6T
Diameter: 53 X 19 cm - Kg 0.15
Immediate availability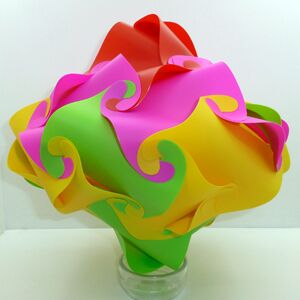 Spinning Top Puzzles Lamp M - 4 Red - 8 Pink - 12 Yellow - 8 Green
Created by our pupils at Morden Library Workshop
Assembled with 32 Components size M - 4 Red - 8 Pink - 12 Yellow - 8 Green
Item Code: PL234R8P12Y8G
Diameter: 30 X 30 cm - Kg 0.16
Immediate availability

Round Puzzles Lamps 23cm 15 Pink + 15 Blue
Created by our pupils at Morden Library Workshop
Assembled with 30 Components size M 15 Pink + 15 Blue
Item Code: PL2315P15B
Diameter: 23 cm - Kg 0.15
Immediate availability

Round Puzzles Lamps 23cm 15 Red + 15 Blue
Created by our pupils at Morden Library Workshop
Assembled with 30 Components size M 15 Red + 15 Blue
Item Code: PL2315R15B
Diameter: 23 cm - Kg 0.15
Immediate availability

Round Puzzles Lamps 23cm 20 Pink + 10 Yellow
Created by our pupils at Morden Library Workshop
Assembled with 30 Components size M 20 Pink + 10 Yellow
Item Code: PL2320P10Y
Diameter: 23 cm - Kg 0.15
Immediate availability

Round Puzzles Lamps 23cm 20 Red + 10 Orange
Created by our pupils at Morden Library Workshop
Assembled with 30 Components size M 20 Red + 10 Orange
Item Code: PL2320R10O
Diameter: 23 cm - Kg 0.15
Immediate availability

Round Puzzles Lamps 12cm
Made with 30 Components size XS
Item Code: PL12
Diameter: 12 cm - Kg 0.04
Immediate availability
Quantity Discount available

Round Puzzles Lamps 17cm
Made with 30 Components size S
Item Code: PL17
Diameter: 17 cm - Kg 0.09
Immediate availability
Quantity Discount available

Round Puzzles Lamps 23cm
Made with 30 Components size M
Item Code: PL23
Diameter: 23 cm - Kg 0.15
Immediate availability
Quantity Discount available

Round Puzzles Lamps 34cm
Made with 30 Components size L
Item Code: PL34
Diameter: 34 cm - Kg 0.27
Immediate availability
Quantity Discount available

Round Puzzles Lamps 43cm
Made with 30 Components size XL
Item Code: PL43
Diameter: 43 cm - Kg 0.41
Immediate availability
Quantity Discount available

Round Puzzles Lamps 55cm
Made with 30 Components size XXL
Item Code: PL55
Diameter: 55 cm - Kg 0.57
Immediate availability
Quantity Discount available

Round Puzzles Lamps 66cm
Made with 30 Components size Jumbo
Item Code: PL66
Diameter: 66 cm - Kg 0.80
Immediate availability
Quantity Discount available

Customers also shopped for